Conyers police officer uses Taser on two students | News
CONYERS, Ga – A Conyers police officer took the "correct course of action" when he used a Taser gun to break-up a fight between students at Rockdale County High School last month.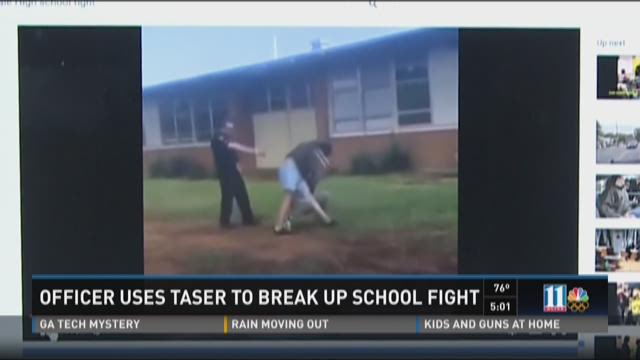 The shock from one blast of the Taser knocked both students to the ground.
The incident happened on Friday, September 11, a day when Conyers police had increased patrols of at Rockdale County High School because of threats throughout the country.
A police incident report said at 11:15 a.m., a patrolling officer saw a large crowd surrounding two students fighting.
"He (the officer) rushed up to the fight itself. He did announce taser before he deployed taser," said Kim Lucas, spokesperson for the Conyers Police Department.
Video of the incident shot on a cellphone shows the one shot of the Taser led to both students
Police arrested Tyra Davenport, 17, and Victor Ramierz, 18, and charged them as adults with disorderly conduct
"It was determined, that was the correct course of action, so there was no disciplinary action to take place," said Lucas. "We don't want out officers to get injured. We don't want our police officers to get injured, so they have to assesses very quickly whatever a situation is given a circumstance."
Conyers police say this brawl is one of at least seven fights at Rockdale County High the beginning of the school year, including three on one day.
Just last week… a female school resource officer not only got hurt breaking up a fight, she was robbed.
"There were a lot of students around and our officer went to the ground and they even stole some equipment off of her person and she was slightly injured during the process. So, that's what we're facing day in and day out at the schools," said Lucas.